In short, the primary purpose of Goodyear Eagle GT tires is to improve the overall performance of virtually any sports car. Considered a high performance all season type tire, this product delivers the goods for those who enjoy outstanding handling and stylish looks.
Boasting unique tread patterns that not only look good but that also make all-season driving a breeze, the Eagle GT is a tough act to follow. Sports car enthusiasts can expect excellent traction in snow as well as on wet roads with the Eagle GT.
The tire tread is designed specifically to enhance handling and steering capabilities. Using TredLock, a technology devised by Goodyear, the Eagle GT performs equally well on wet or dry road conditions.
A Greatly Improved Ride At Both High & Low Speeds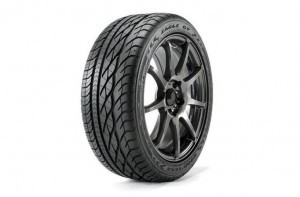 Goodyear Eagle GT tires are also highly regarded because of their polyester cord type casing and twin internal steel belts.
These twin belts provide added structural stability and are further reinforced with unique spiral wrapped and woven nylon. These innovations all come down to a greatly improved ride at both high and low speeds.
Because of proprietary tread technology and TredLock the Eagle GT is extraordinarily well equipped to evacuate and shed water in even the most torrential rains. The Goodyear Eagle GT tires are V-speed rated and come complete with a comprehensive warranty.
A Tire That Delivers On Its Promises
Another added feature of the Eagle GT tire is the rim protector. This important feature helps to protect each individual wheel from unexpected curb impact related damage. This feature in itself makes the Eagle GT an excellent choice for those with a treasured sports car they wish to preserve.
Drivers in search of a tire that delivers on its promises of providing remarkable traction and impressive performance in wet road conditions should not miss the Eagle GT. Professional type handling and noticeable gripping action is what drivers can expect from this popular tire offered by Goodyear.