High tier performance is an in-demand concept no matter the industry, and these days it's become a mandate that high performance must equate to high technology. No matter what the topic is if it is to be the best then it must have the leading technology behind it during the times.
This has held true in Goodyear's business philosophy for years. From the beginning of their business plans to the modern day one can be comfortable in making the assumption that the technology behind their product is of the highest engineered brilliance. Many factors need to be taken into consideration when purchasing a new product; and the best place to look would be the technology of the product.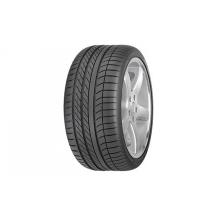 The Eagle FI asymmetric tire is the newest brain child out of the R&D team at Goodyear. It offers Race-derived performance similar to the rubber compound similar to that used by Indy 500 racers. The large shoulder and intermediate tread blocks on the rubber pattern are designed to offer competitive performance when and cornering stability.
The center state of the tire is enhanced to help with the acquiring of straight-line traction which means that there is less veering or slightly drifting off into the shoulder of the road. These problems are obsolete with the technology that Goodyear offers.
Rather it is the shoulder block design that allows water to escape from between the tire's tread or high grip rubber traction the road conditions are manageable with the innovative design that is offered by the tire.
The tire is designed for continued use at high speeds, the double bolt design of the tire allows for equal distribution on all the tires pressure points. This ensures a quality of design that allows full grip on any road service and reduces the wear on a tire.
By using the entire tread pattern, the tire is less likely to wear out quickly on the vulnerable parts of the center of the tire. A problem routinely encountered by other manufactured tires.
If you're looking for a tire that will keep your high-performance vehicle under your control and on a straight path on the road, then your search has ended. There is no need to look elsewhere, welcome to the crossroads between rubber and perfection.