Among the Potenza family of sports tires from Bridgestone, the RE960A/S Pole Position is a year-round tire that provides ultra-high performance. This, combined with its race-car appearance, makes the Bridgestone Potenza RE960A/S ideal for sports coupes and performance sedans.
It is fit for all seasons and offers the sports driver flexibility in terms of vehicle handling, control and traction on dry, wet and mildly snowy roads. No matter what turn the weather takes, the Potenza RE9060A/S pole position is ready to take on the road.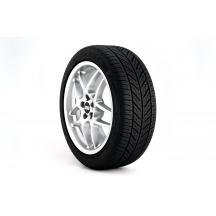 Technical Specifications:
1 – It uses UNI-T AQ II technology that molds an advanced dual-layer, all-season compound into a directional tread design. The dual layer exposes high-grip rubber as the tires wear and thereby minimizes the effect that worn tires have on wet traction.
2 – These advanced construction features make the RE9060A/S tire stable on dry roads as well as create a hydro-evacuation surface (HES), where the hydroplaning resistance is improved by pumping water and slush through the grooves on the tire's footprint.
3 – The leading edges of the tread blocks are given numerous sipes to make them adaptable to both wet and dry road conditions. These edges also have grooves in a multi-edged, lateral scallop design to offer a decent amount of bite for improved traction on wet and snowy roads throughout the life of the tire, even as the treads start showing signs of wear.
4 – Bridgestone has included nylon-reinforced twin steel belts and a polyester-reinforced carcass for distortion resistance at high speeds and while negotiating corners on dry roads. It gives a comfortable ride, reduces noise and improves fuel efficiency.
Users have found a new set of Potenza RE960A/S tires to be excellent at handling even moderate to heavy snowfall. Overall, their wet traction is much better than most other tires in the same category.
They still maintain a new look after considerable use. Although these tires sometimes tend to pick up road noise after the guaranteed first 40,000 miles, they have maintained a good tread well beyond this mark.